Game Review - Break the Bank Video Slot Game
 This has to be one of my favorite video slot machine games. It is not as flashy as some of the other slots you will find within microgaming casinos, but I like the bonus round of 5x multiplier and with a wild giving an extra 5x which can add up to a huge win. The denominations on it are reasonable so with smaller bets you can win decent jackpots and with larger bets maxing out at 22.50 you can win huge jackpots. So out of the video slot games within microgaming this is the one I play the most. You can imagine how thrilled I was when they introduced the all new mega spin Break the Bank Again.
You might be wondering what is so different about break the bank again, and absolutely nothing. It is exact same game, with same payouts, and graphics but with one added feature. There are 4 reels you play at one time. That means four chances of hitting the bonus rounds or the big payout jackpots. This is the first multi-game video slot machine, we have seen multi reels for quite awhile but I have only seen the multi game in Vegas which was offered in the video slot type games. With Microgaming is always adding new slots to their casino software and each month players are able to look forward to what will be next. I am going to assume that more of these type mutli-games will be added in the future. I am sure it will depend on how popular the game is, and how many are actively playing it.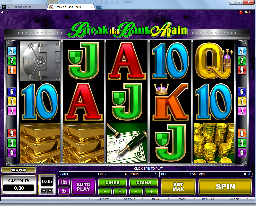 Break The Bank Again Game Information
395,000.00 is the maximum coin payout Wild with 5 times multiplier "the break the bank symbol"
Scatter symbol - 3 or more takes you to free bonus spins where you will get 15, 20 or 25 spins depending on how many "safe" scatters you hit. In free spins mode you will receive a multiplier of 5 on your wins, and with a wild symbol that will increase to 25 times.
Auto play feature allows you to set the amount of spins without having to click the button.
Try Break the Bank Again at any Microgaming Casino.